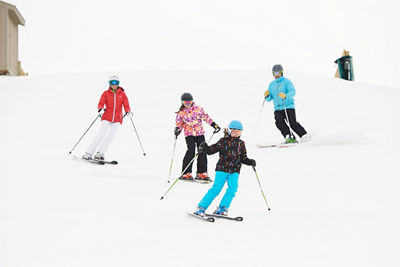 committed to your safety
Respect the Mountain
Mt. Brighton is committed to promoting ski safety. While visiting Mt. Brighton, you may be joined on the slopes by traditional alpine skiers, snowboarders, telemark skiers, and skiers with disabilities.
Always show courtesy to others.
Remain aware that there are elements of risk involved with skiing and snowboarding that common sense and situational awareness can help reduce. Know your ability level and stay within it. Observe "Your Responsibility Code" listed below and share the responsibility with others.
Read more about Mt. Brighton's safety guidelines here.
Your Responsibility Code
Always stay in control, and be able to stop or avoid other people or objects.
People ahead of you have the right of way. It is your responsibility to avoid them.
You must not stop where you obstruct a trail or are not visible from above.
Whenever starting downhill or merging into a trail, look uphill and yield to others.
Always use devices to help prevent runaway equipment.
Observe all posted signs and warnings. Keep off closed trails and out of closed areas.
Prior to using any lift, you must have the knowledge and ability to load, ride and unload safely.
Be advised that Mt. Brighton Ski Area does not mark all potential obstacles or hazards. When marked, poles, flags, fencing, signage, padding or other forms of marking are used to inform the skier/rider of the location of a potential obstacle or hazard. These markers are no guarantee of your safety. It is part of your responsibility under the Your Responsibility Code to avoid all obstacles and hazards.
To learn more about safety on the mountain, please visit our website.
Learn More

, opens in a new window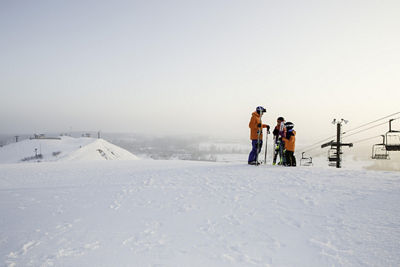 Ski Patrol
Contact: 810-229-4046
The Mt. Brighton Ski Patrol is a volunteer organization of men and women who have dedicated themselves to public service on the slopes. We are committed to promoting safety and responsible skiing/boarding for all guests and to providing first-aid in the event of injury.
Our members support and participate in the ski and outdoor recreation community by providing emergency care, rescue and education services.
To learn more about us or for information on joining our team, please visit the Mt. Brighton Ski Patrol website at www.mtbrightonskipatrol.com.
Drone Policy
For safety reasons, recreational drone use by any guest or member of the public, for any reason, is not permitted on or over any of our property. Likewise, commercial use is also prohibited on Vail Resorts' property, except in limited circumstances when an approved operator has obtained an FAA exemption and received written permission from the resort. This includes use associated with special events, marketing and in film/photo applications.
It's the mountain guide in your pocket, now with even more features:
Interactive trail maps, with trail and grooming status
Real-time weather, snow totals and mountain cams
Your on-mountain GPS location and stat tracking
Resort updates and safety information
And more!