Brightoning Michigan Winters since 1960
About Mt. Brighton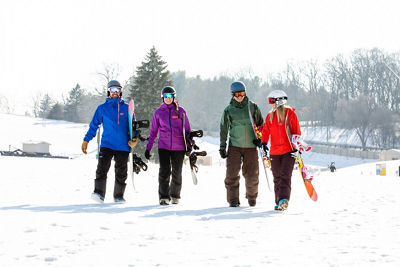 History of Mt. Brighton
Since 1960, Mt. Brighton Ski Area in Southeast Michigan has been an uplifting family winter destination on the Midwest snow sports scene. Skiers and riders from Detroit, Ann Arbor, Lansing and Northwest Ohio can easily access 25 trails and five lifts covering 130 acres.
Having converted thousands of first-timers into lifelong skiers and riders, and now with the opportunity to take that passion to Vail Resorts' iconic western mountains, Mt. Brighton is truly the place where Epic begins.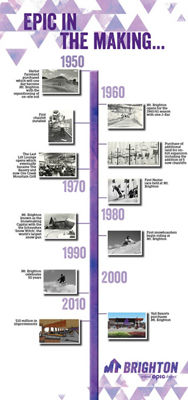 The Uplifting Story of Mt. Brighton
1950s: Herbst Farmland purchased which will one day become Mt. Brighton with the repositioning of the on-site soil.
1960s: Mt. Brighton open for the 1960/61 season with one J-Bar. Purchase of additional land for on-hill expansion including the addition of 5 new chairlifts.
1970s: The Last Lift Lounge opens which eventually became the Bauery and now Ore Creek Mountain Grill. First Nastar race held at Mt. Brighton.
1980's: Mt. Brighton known as the Snowmaking Capital with the Schneehex 'Snow Witch' the world's largest snow gun. First snowboarders begin riding at Mt. Brighton.
2000's: Mt. Brighton celebrates 50 years. Happy birthday!
2015: Vail purchase Mt. Brighton, which included $10 million in improvements.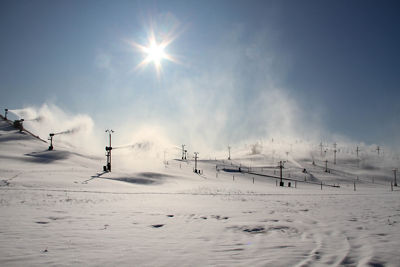 Snow making Capabilities
Mt. Brighton is committed to the best snow making capabilities, including an expansion, which triple the capacity. The new system will allow the ski area to open sooner with a greater base, higher quality snow surface and the ability to recover more quickly from a weather event.
The ski area has 43 new, energy-efficient snow making guns; 17,000 feet of higher capacity snow making pipe; 92 new snow making hydrants; and a new automated pump house that will nearly triple the capacity of water pumped per minute through the snow guns.
Snowmaking 101
Hey there everyone! As winter approaches and we all feel that familiar chill in the air, for many of us waiting to take those first turns on the mountain the snow can't ever seem to come soon enough. We often hear questions about snowmaking such as "How do you make snow?" or "It was freezing last night, why didn't you blow any snow?" Believe us- we want winter to come sooner than anyone! Since Mother Nature doesn't always cooperate, every year we have to rely on the heroes of the ski and snowboard industry, our SNOWMAKERS! Our top goal is to produce the highest snow quality you can find anywhere, so to help you get a better understanding of the optimal conditions needed to produce snow, our team has put together the following Snowmaking 101. Enjoy!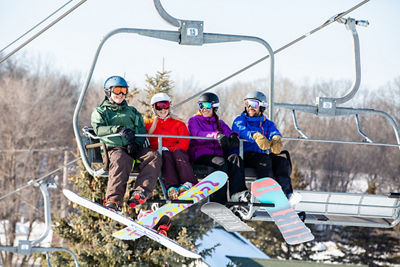 Vail Resorts Technology Installation
EpicMix On Mountain App
Mt. Brighton has installed Vail Resorts EpicMix RFID technology which will allow skiers and snowboarders to install the EpicMix app on their mobile phones and track their ski days online. They also can selectively share stats and information about their day on the slopes via Twitter and Facebook without requiring skiers or snowboarders to do anything different other than enjoy their skiing and snowboarding experience.
Epic Mix is available at Mt. Brighton! This social application enables skiers and riders of all abilities to track their vertical feet, earn digital pins for on-slope accomplishments using their NASTAR race time to earn gold, silver and bronze medals. Race times, digital medals, overall leaderboards and leaderboards with just family and friends are all available on both the EpicMix website and mobile application.